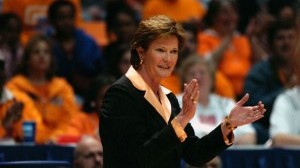 I talk about courage a lot, but that's probably not a surprise to you. One thing I know for sure from hundreds of hours spent with people in conversations around courageous leadership is that people are often most engaged when you are telling them a story. We have three capacities of courageous leadership: Try, Trust, and Tell. To help people understand what I mean by each, I often share a story about a person.
When I talk about Trust Courage, I often talk to people about Pat Summitt, the recently retired head coach of the University of Tennessee Lady Volunteers. Last night, Pat Summitt received the Arthur Ashe Courage Award at the 2012 ESPY Awards Show; that's the annual award show hosted by ESPN for the non-sports fans out there. I think they picked a pretty perfect recipient.
Summitt has been an exceptionally successful basketball coach. At the age of 22, she became the head coach of the Lady Volunteers and has been leading that team since. As their head coach, she has become the winning-est coach in NCAA history with 1,098 victories. Her teams have won 16 SEC championships and 8 national championships. On the court, she was known for being very tough and holding her team, her coaching staff, and her self accountable. At the same time, she recognized that she didn't know it all and had to keep pushing herself to get better as a coach and leader. Summitt once said, "If I'm not leading by example, then I'm not doing the right thing. And I always want to do the right thing."
In addition to the on-court success she coached her players to, she encouraged their success off court. In her 38 years as a coach, every single one of her team members graduated from college. Seventy-four of her players have gone on to become coaches themselves. Summitt's impact on these women has echoed throughout their lives. Knowing just these achievements, you can already see examples of how she was revolutionizing how the sport of women's basketball was played and talked about at the college level. You can see how she encouraged those around her to be successful and accountable to their own potential. All of that is true, but that's not the limit of her courage.
In August of 2011, Pat Summitt announced that she had early onset Alzheimer's disease. Disclosing this news to the University, her coaching staff, and her current team she said, "I will be relying on my outstanding coaching staff like never before." In this act of revelation, Summitt become an extraordinary example of Trust Courage. She made herself vulnerable to others by sharing something very personal. She relied on her coaching staff even more to help her maintain the high performance standards that were the hallmarks of her career. She sought support from those around her to continue with her passion and prepare for a new battle. Trust Courage is about letting go, so that you can open up to new possibilities. Pat Summitt coached the Lady Vols for a final season, won the SEC title, and then retired in 2012. Her entire life and career is a testament to courage.
The Arthur Ashe Courage Award is given to those whose contributions transcend sport. Pat Summitt is a very worthy recipient.
You Might Also Like